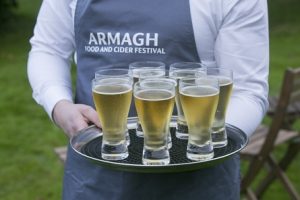 Long Meadow Cider is part of the farm that has been worked and owned by the McKeever family for three generations. Through their stewardship, they have focused on Bramley apple production, with each generation of the family passing on different methods and traditions to the next. Their award winning products of cider, apple juice and vinegar are naturally pressed and fermented.
Wine V Cider will encourage you to challenge your palate. Wine paired with food is an obvious choice, however the McKeever family think that their Long Meadow ciders can stand up to the challenge. Pat McKeever will use all his experience and cider know-how to go head to head with Max Sichel of Maison Sichel. Sichel is an iconic name in the wine world. A long established family with different branches operating in France, Germany, the UK and USA. At one point while one branch was restoring Chateau Palmer, another was promoting Blue Nun. It was the British branch that first set foot in Bordeaux, establishing an 'acquisition office' back in 1883.
The move from merchants to winemakers was started by Max's great grandfather, Allan, in the 1930's when he joined forces with two other families to buy the legendary, but at that time massively dilapidated Chateau Palmer in Margaux – an investment that took over 20 years to show a return. Grandfather, Peter, repeated the trick with the purchase of the almost ruined Chateau Angludet in 1961, also in Margaux and now consistently rated as one of the finest Cru Bourgeois properties. The family has continued to expand, building new brands and wineries as well as forming Domaine Peter Sichel in Corbieres in 1987 and Chateau Argadens back in Bordeaux in 2002. Max is the sixth generation to join Maison Sichel and we are very honoured to have him at our Wine V Cider dinner.
Pat and Max will explain their rationale for pairing the selected ciders and wines to each of the specially curated food courses – these have been prepared by chef Barry Smyth from The Rovin' Stove. Ultimately you will decide whether the cider or wine matches each course. The evening will be hosted by leading global cider expert, Gabe Cook, known as the Cideroligist. The five course menu will be accompanied at each course with a glass of wine and a glass of cider. Musical accompaniment will enhance this lovely event.
Free shuttle bus transport from Portadown and Armagh available on request. Stops at Richhill, Loughgall and Moy. To book transport please contact Lisa Finnegan; lisa.finnegan@armaghbanbridgecraigavon.gov.uk T: +44 (0) 3300 561 023 Transport subject to availability last date for booking Monday 4th September.
Should you have any dietary or access requirements, please mention during the booking process and these will be accommodated as far as possible. Please email foodandciderweekend@armaghbanbridgecraigavon.gov.uk for further assistance.
This event takes place on Friday 8th September 2023 at 7.30pm until 11.00pm at Long Meadow Cider. Ticket price £85.00
To view General Information and Cancellation Policy for Food and Cider Weekend 2023 – please click:https://bit.ly/3KtYLXu