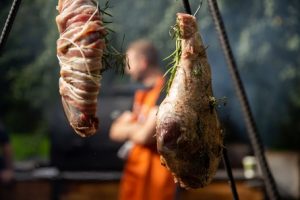 We are all familiar with simply lighting the barbecue with some charcoal or clicking on the gas. Cooking with wood requires mastering the management of your fire, knowing which timbers to use, it's a primal experience!
We will look at all aspects of cooking with wood, from sustainability to the connection to our native woods in nature. This one-day course will give you even more depth of knowledge of different techniques. From breakfast to supper, everything will be cooked over our wood fires, with the opportunity to cook on our smoker, wood fired pizza oven, open fire pit, asado grill or plancha. Your day will include all refreshments, and of course you'll be enjoying lots of dishes created over the course of the day. Concluding with a BBQ feast featuring some amazing low and slow dishes you'll have made with us.
And we won't just be cooking! You will learn to build, light and manage a fire. Understand the importance of wood selection, and how to source sustainable suppliers. Expect to head home with the smell of wood smoke, a full belly, and a new passion for cooking outdoors over an open fire. Throughout the day the course will be a combination of cookery demonstration and hands on experience.
At the end of the day there will be a chance to answer any burning questions which may have come to mind. We will be using ingredients sourced from within our Food Heartland where possible, and please bring some reusable containers to take home any tasty leftovers!
– Alfresco breakfast, cooked by you, on the fires
– Meat preparation, shoulder of pork and lots of other meats to be cooked on the fires
– Brisket 101, covering everything from trimming, dry rubs and smoking
– Making a campfire stew to be enjoyed later in the afternoon at our feast
– Smoking a ham hock, a treat to take home at the end of the day
– Vegetable cooking, using a selection of different techniques
– Preparation of sauces and accompaniments to the dishes we've prepared
– The day will wrap up with a supper enjoying all we have produced together
Should you have any dietary or access requirements, please mention during the booking process and these will be accommodated as far as possible. Please email: foodandciderweekend@armaghbanbridgecraigavon.gov.uk for further assistance. Not suitable for children under 12.
This event takes place on Saturday 9th September 2023 from 10.00am – 4.00pm at On the Hoof HQ, Bryandrum Road, off Tandragee/Markethill Road
https://bit.ly/3JV7yRH. Ticket price: £130.00
Not suitable for children under 12 years