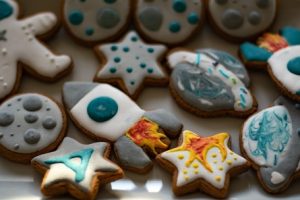 In this delicious workshop in the fabulous surroundings of Armagh Planetarium, talented and local baker Rosemary Hughes will teach the young bakers how to make cookie dough, roll it out and cut different planetary shapes to decorate – Planetarium staff will be on hand to explain what each of the planets are and share some exciting facts about our solar system.
Children will take home what they have baked and decorated… and not already eaten!
All materials are covered in the ticket price. Aprons will be provided for the event.
As Parents / carers leave participants off for the workshop, they will be asked to complete a Parental Consent photography Form.
Children's bakery workshop. Suitable for children ages 8+
Should you have any dietary or access requirements, please mention during the booking process and these will be accommodated as far as possible. Please email foodandciderweekend@armaghbanbridgecraigavon.gov.uk for further assistance.
This event takes place on Saturday 9th September 2023 at 11.00am until 11.45am and 12 noon until 12.45pm at Armagh Planetarium. Ticket price £15.00
To view General Information and Cancellation Policy for Food and Cider Weekend 2023 – please click:https://bit.ly/3KtYLXu