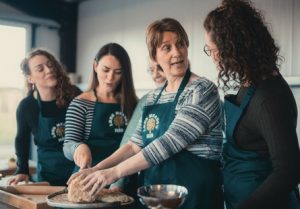 Enjoy a fully immersive orchard/cider experience in the company of the McKeever family. Hear about their family traditions, enjoy an orchard walk and witness first-hand how their apple farming business has evolved and changed over the generations. Learn about the production process for their award winning products. Taste the apples currently in storage from harvest . Learn all about the production and benefits of their Apple Cider Vinegar (with Mother).
Time then to relax in their new glass fronted Bramley Barn and enjoy a hot cuppa with granny's traditional griddle soda bread, cheese and chutneys. Watch a cooking demo of the traditional breads being made and then enjoy them hot off the griddle. These traditional recipes have been handed down through the generations. There's no measurements here, all is gauged by experience. Recipe cards available to take away.
And of course no visit with the McKeever Family would be complete without tasting their award winning craft ciders and apple juice. A truly enjoyable, interactive experience set in the heart of the Orchard County.
Everyone attending the event must book a ticket.
Should you have any dietary (especially gluten free) or access requirements, please mention during the booking process and these will be accommodated as far as possible. Please email foodandciderweekend@armaghbanbridgecraigavon.gov.uk for further assistance.
This event takes place on Saturday 9th September 2023 at 11.00am until 1.00pm at Long Meadow Cider. Ticket prices: Adult (18yrs+) £38.00 / Young Adult (6 – 17yrs) £30.00 / Child 0 – 5 (free) / Family (2 adults and 2 young adults) £120.00
To view General Information and Cancellation Policy for Food and Cider Weekend 2023 – please click:
https://bit.ly/3KtYLXu