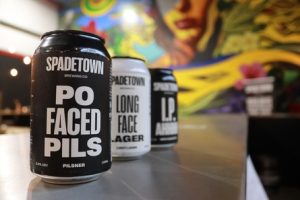 Spadetown is the first brewery to be located in Lurgan in 150 years. Patrick and Martin set up the brewery in 2021, and have been crafting a range of popular beers since for sale in bars and off sales across Northern Ireland.
Spadetown are delighted to host this exclusive beer tour and tasting where you'll learn how their beers are made and what makes them unique. Visitors will also enjoy a sample of a range of beers accompanied by a selection of locally produced lite bites to accompany the tasting in their stunning Tap room – a hidden gem on the outskirts of Lurgan.
The brewery currently produces 5 core beers, each beer named after a cheeky Lurgan inspired colloquialism including a West Coast IPA called IPAhhhh, Po Faced Pils German-style Pilsner, a sessionable light lager – Long Face Lager, an outstanding Ragin' Red Ale and with the newest addition, a Dark Cloud Stout.
Should you have any dietary or access requirements, please mention during the booking process and these will be accommodated as far as possible. Please email foodandciderweekend@armaghbanbridgecraigavon.gov.uk for further assistance.
This event takes place on Saturday 9th September 2023 at 3.00pm until 5.00pm at Spadetown Brewery,
5 Silverwood Industrial Estate, Lurgan, Craigavon BT66 6LN
. Ticket price £25.00
To view General Information and Cancellation Policy for Food and Cider Weekend 2023 – please click:https://bit.ly/3KtYLXu