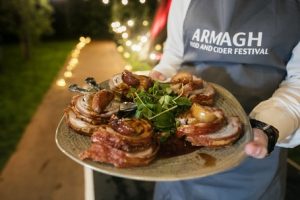 Celebrate the Armagh Food and Cider Weekend in style with a seasonal tasting menu prepared and served by Gareth and Kasia Reid and the 4 Vicars catering team. Hosted at the home of Jane and John Nicholson, whose ancestors planted the first Bramley seedling in County Armagh.
Set amongst the stunning County Armagh orchards and dining in a bespoke canopy covered courtyard setting. This five-course, culinary adventure is a treat for guests who love great food. The menu will feature the best of local ingredients supported by the produce grown on the estate. Darren Rafferty from JN Wines will provide bespoke wine matches to each course of Gareth's food, bringing you perfect pairings from across the world of wine. MacIvors Co Armagh cider and Barnhill Co Armagh apple juice available. What could be better than spending an autumn evening in a stunning location with something delicious to eat and drink.
Evening includes musical entertainment.
Free shuttle bus transport from Portadown and Armagh available on request. Stops at Richhill, Loughgall and Moy. To book transport please contact Lisa Finnegan; lisa.finnegan@armaghbanbridgecraigavon.gov.uk T: +44 (0) 3300 561 023 Transport subject to availability last date for booking Monday 4th September.
Should you have any dietary or access requirements, please mention during the booking process and these will be accommodated as far as possible. Please email foodandciderweekend@armaghbanbridgecraigavon.gov.uk for further assistance.
This event takes place on Saturday 9th September 2023 from 7.00pm to 10.30pm at Crannagael House. Ticket price: £80.00
To view General Information and Cancellation Policy for Food and Cider Weekend 2023 – please click:https://bit.ly/3KtYLXu