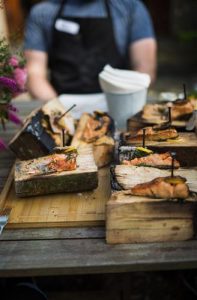 This special cooking event brings together the outdoor and street food chefs from On the Hoof with the award-winning expertise of Hal Dawson, Ireland's only Worshipful Master Fishmonger. The event will take place in On The Hoof's outdoor kitchen on the edge of Gosford Forest Park.
Hal will guide you through sourcing and preparation of fish and shellfish as the Chapman family apply their various cooking-with-fire techniques to the amazing fish he brings. You will watch Hal as he prepares sustainably sourced fish and shares his lifetime of knowledge with you. Expect to be enjoying fish and shellfish cooked many ways over the duration of the workshop.
The day includes: tea, coffee and introductions. The principles of fire management including which woods and fuels to use. Preparing and cooking fish in different ways including hot smoking and clay dressings for slow cooking. We look at ways to responsibly source and buy sustainable seafood. This will be another day at the On The Hoof HQ where you go home having learned something new, feeling full and smelling of smoke.
Should you have any dietary or access requirements, please mention during the booking process and these will be accommodated as far as possible. Please email: foodandciderweekend@armaghbanbridgecraigavon.gov.uk for further assistance. Not suitable for children under 12
This event takes place on Sunday 10th September from 10.00am until 4.00pm. TIcket price; £130.00. Venue: On the Hoof HQ
https://bit.ly/3JV7yRH
To view General Information and Cancellation Policy for Food and Cider Weekend 2023 – please click:https://bit.ly/3KtYLXu
Not suitable for children under 12 years