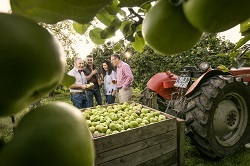 Join the McKeever Family in their orchards in the heart of County Armagh.
Experience a tour of the Long Meadow orchards where you will learn about the different growing systems, visit the production plant and see the apple storage facilities, cider vinegar making, cider press and information on the fermentation process.
After tasting some of Long Meadow's products, enjoy a cider reception seated right in the heart of the orchards. Lunch comprises of soup, a gourmet sandwich, apple pie, tea or coffee.
Get closer to the orchard by taking part in some apple picking and help us bring them in for harvest. Every apple you pick will either be turned into juice or cider. We will be in a bespoke dining and tasting venue right in the heart of the Orchard.
Additional beverages can be purchased on the day.
Should you have any dietary or access requirements, please mention during the booking process and these will be accommodated as far as possible. Please email foodandciderweekend@armaghbanbridgecraigavon.gov.uk for further assistance.
This event takes place on Sunday 10th September 2023 at 12noon until 3.00pm at Long Meadow Cider. Ticket prices: Adults £40.00 / Under 12s £12.00
To view General Information and Cancellation Policy for Food and Cider Weekend 2023 – please click:
https://bit.ly/3KtYLXu