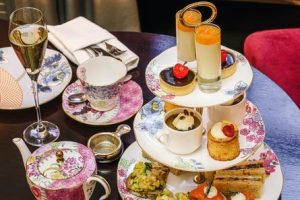 What a novel idea, have a Sunday afternoon tea instead of Sunday Lunch.
Five courses of taste explosions await you. Imagine tier upon tier of delicious little bites and all afternoon to sit and chat with friends and family. Courses: Starter / Savouries / Scones / Sweet Bites / Dessert THIS IS A BIG AFTERNOON TEA, WE RECOMMEND YOU DON'T EAT ANYTHING BEFOREHAND
This is the perfect way to catch up on a Sunday afternoon. At Blackwell House we are passionate about providing only the freshest and tastiest food. Everything Is Home-Made and prepared with love and care by Joyce at Blackwell House in our pristine country kitchen. We use our own free-range eggs, vegetables from our garden, meats from Quail's Award Winning Butchers, fresh NI dairy produce and items from Food Heartland Producers.
Should you have any dietary or access requirements, please mention during the booking process and these will be accommodated as far as possible. Please email foodandciderweekend@armaghbanbridgecraigavon.gov.uk for further assistance.
This event takes place on Sunday 10th September 2023 with tables available in various time slots ranging from 1.00pm until 3.00pm at Blackwell House. Please contact Blackwell House to arrange your time slot – tel:
028 3883 2752
. Ticket price £39.00
To view General Information and Cancellation Policy for Food and Cider Weekend 2023 – please click:https://bit.ly/3KtYLXu