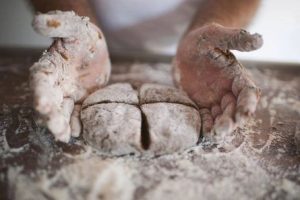 There has never been a better time to go back to basics and revive the skills of our parents and grandparents. Our breads are famous the world over and with Krazi Baker you can keep those traditions alive.
Who doesn't love a nice bit of treacle soda, fresh off the hot plate, drenched in butter with a good cup o tea? Mark, the Krazi Baker, recently won 1st, 2nd and 3rd in the World Bread Awards Potato Bread category; 1st for plain Potato Bread, 2nd for Potato Apple and 3rd for Cheese and Chive.
You will be able to choose which potato bread you want to bake in the traditional Irish bread class so come along and learn how to bake the world's best Potato Bread. With the growing GMO'S in our food and toxins that are inorganic to the body, it's more important to eat and shop local. It's better for your health, your pocket and the local economy. With Krazi Baker, you'll not only be investing your time, energy and money into skills you can reuse; but also, using the best ingredients Northern Ireland has to offer. In the bread class we will bake ,scones ,soda farls and potato bread of choice. Baking bread is my greatest passion in life and it is my privilege to pass on these skills to enthusiastic students.
Should you have any dietary or access requirements, please email:Lisa Finnegan; lisa.finnegan@armaghbanbridgecraigavon.gov.uk T:+44 (0) 3300561023 and these will be accommodated as far as possible.
This event takes place on Sunday 10th September from 1.00pm – 4.00pm at the Krazi Baker premises. Ticket price: £50.00.