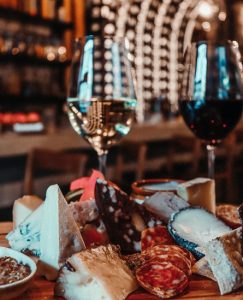 Fifth Quarter is an exciting new hospitality venture brought to you by the creators of The Vault, Banbridge.
It is in the recently refurbished banking hall of the old Provincial Bank.
The Fifth Quarter team will treat you to two glasses of wine (red or white), matched to a lovely selection of local cheese and charcuterie breads and meats – a perfect end to a great weekend of food and drink!
Should you have any dietary or access requirements, please mention during the booking process and these will be accommodated as far as possible. Please email foodandciderweekend@armaghbanbridgecraigavon.gov.uk for further assistance.
This event takes place on Sunday 10th September 2023 at 5.00pm until 7.30pm at Fifth Quarter Restaurant,
50 Bridge St, Banbridge BT32 3JU
. Ticket price £35.00.
To view General Information and Cancellation Policy for Food and Cider Weekend 2023 – please click:https://bit.ly/3KtYLXu