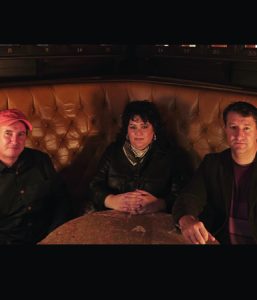 MOVING ON MUSIC PRESENTS
RBG TRIO 
Fri 22 Sept | 8.00pm | £15.00 £5.00 [students] 
Formed in 2019, The RBG Trio is a collective of three of Ireland's leading jazz artists – Meilana Gillard [tenor saxophone], Dave Redmond [bass], and Kevin Brady [drums].
Renowned for their tight interplay and incredible storytelling, the band have carved out a 'must see' reputation. With blues always in their foundation, the trio's sound ranges from pre to post-bop, soulful to grunge, free to swinging. 
The trio's repertoire ranges from the traditional saxophone trio canons of Sonny Rollins and Joe Henderson, to more contemporary and improvised output. It is an approach where free-form exploration rubs shoulders with reimagined music from the likes of Nirvana and Soundgarden. 
Ultimately, nothing is off limits. It is a band led by tunes – mainstream or lesser known, self-penned or reinterpreted, traditional or contemporary. If it works, it works. Additionally, each member of The RBG Trio composes for the band, which lends to the trio's diverse output and constant surprise. 
This event takes place in our Studio Theatre with an unreserved cabaret seating layout.