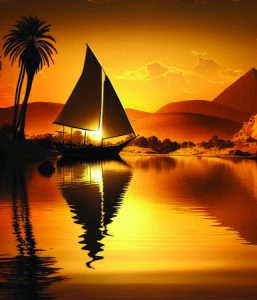 BUILDING BRIDGES COMMUNITY ARTS THEATRE PRESENTS 
MURDER ON THE NILE 
Sat 30 Sept | 7.30pm | £10.00
Embark on a thrilling journey as Building Bridges Community Arts Theatre presents 'Murder on the Nile', an enthralling play written by the legendary Agatha Christie. Set against the backdrop of exotic landscapes and mysterious allure, this riveting whodunit takes you on a captivating voyage filled with intrigue, and unexpected twists. 
Join a cast of talented, local actors as they bring Christie's timeless tale to life, immersing you in a world where secrets lurk in every shadow and danger hides behind every corner. As the plot thickens and tensions rise, you'll find yourself unravelling the intricate web of deception, desperate to uncover the truth before it's too late. 
Secure your tickets now and prepare for an unforgettable night of adventure and mystery on the River Nile, where every moment counts, and every clue leads you closer to the truth! 
Contains mild adult themes. Suitable for ages 10+ 
This event takes place in our Studio Theatre with an unreserved, tiered seating layout.