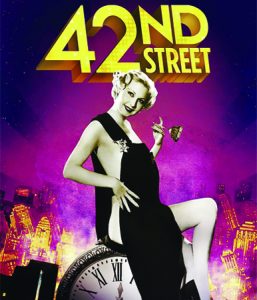 42ND STREET [Dementia Friendly Screening] 
Tues 10 Oct | 11.00am | £4.00 [includes tea/coffee & biscuits]
Dir: Lloyd Bacon 1933 | 89 Mins | Certificate U 
Meet a dewy-eyed ingénue, a gee-whizz tenor, stuck-up stars, hard-up producers, brassy blondes and 'shady ladies from the 80s'. They're all denizens of 42nd Street, belting out ageless Harry Warren | Al Dubin songs and tapping out Busby Berkeley's sensational Depression-lifting production numbers. The put-on-a-show plot spins merrily full of snappy banter and features new faces Ruby Keeler, Dick Powell and Ginger Rogers. The show-stopping numbers 'Shuffle Off To Buffalo', 'You're Getting To Be A Habit With Me' and the title tune still dazzle. 42nd Street shows good times never go out of style. 
Our dementia friendly screenings are open to all, but have been tailored with care, attention and insight to be accessible for people living with dementia. 
This event takes place in our Studio Theatre with an unreserved, cabaret style seating layout.