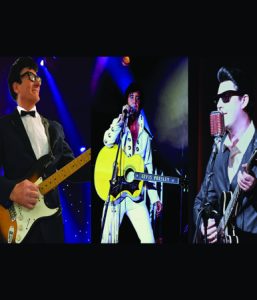 WE THREE KINGS PRESENTS 
ONE NIGHT WITH YOU 
Fri 13 Oct | 8.00pm | £25.00
A welcome return for this uplifting Rock 'n Roll Show, with hit after hit, featuring all the classics like 'It Doesn't Matter Anymore', 'I Drove All Night', 'It's Over', 'Shake Rattle & Roll', 'Teddy Bear', and 'That's All Right Mama', to name but a few!
Featuring Marc Robinson as Buddy Holly with his Stratocaster guitar, Darren Page with his dark glasses as Roy Orbison and Steve Halliday with all the moves of the King himself – Elvis Presley!
A fun-filled show to transport you down memory lane, with a full nostalgic flashback of days gone by! All driven by a lively Rock 'n Roll band, in a show not to be missed!
Will rock 'n roll in Armagh ever die? That'll be the day!