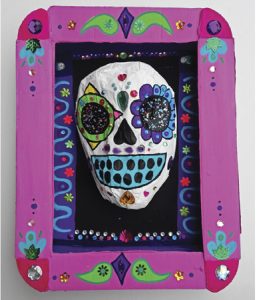 CHILLING CHILDRENS CREATIVE FUN THIS HALLOWEEN AT THE MARKET PLACE
Keep your kids entertained and engaged over the holidays with fantastic Halloween arts and crafts experiences.
NICHO SKULL BOX
Wed 1 Nov | 10.00am – 12.00pm | £12.00
Celebrate Halloween by creating a Día de los Muertos-inspired Nicho Box.
Nicho boxes are small 3-dimensional frames that are sometimes a part of the ofrendas of the traditional Mexican celebration of the Day of the Dead. The 3D frames and pictures are offered as a way to remember and honour the deceased. To create your own Nicho Box you will be moulding a 3D Sugar Skull from paper and tape that will be placed in an ornate display box. You will be using bright colours, patterns, gem decorations and maybe even some glitter to design your own unique Nicho Box. This artwork is sure to bring the wow factor to your Halloween celebrations.
Max No: 12 | Suitable for age 7-12 years | Tutor: Lina Morgan [A Misty Kind of Blue]