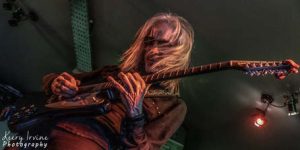 Growing up in a family steeped in traditional music, Pat's first instrument at the age of 4 years was the violin. By the age of 7 he was also playing the acoustic guitar and performing live with the family band. By 14 years he was All-Ireland Champion on the violin and was offered a place at the Royal School of Music, but by 18 years he was seduced by Rock 'n' Roll…….and so he picked up the electric guitar. Affectionately known as the'professor', Pat has been, in recent years, hailed in the press as one of the top 5 Irish guitarists

In 1978 Pat and his brothers formed the short-lived 'Pulse'. By 1979 the band's name was changed to 'Mama's Boys' and with Pat now also the songwriter for the band, the rise to fame was rapid. With his two brothers John and Tommy , 'Mama's Boys' enjoyed a 15-year career with worldwide success and touring alongside many of the great rock and roll bands. The untimely death of Pat's younger brother Tommy brought a close to the 'Mama's Boys' days …and so 'Celtus' was born. 'Celtus' was a mix of the brothers' traditional past with rock and the band were very quickly signed to Sony. Under the guidance of Muff Windwood and producer Rupert Hind the band produced several highly regarded and award winning albums.
In 2001 Pat moved from London back to his native Fermanagh. He had felt he needed a break from music, but that lasted all of a few months as soon he was playing, recording and working with a variety of bands and musicians. In 2007 Pat finally formed his own solo band, 'The Pat McManus Band' and released his first solo album. The band have toured and toured for the past 16 years, playing huge festivals, tours and headlining shows. Within this time Pat has written and released 9 albums and 3 DVD's and a new live DVD is ready for release in 2023. The present line up of The Pat McManus Band includes long time member Paul Faloon on drums and Pat's former co – producer and top session player Plunkett McComb on bass.
And now celebrating 16 years of The PMB, the story continues with a full touring schedule in 2023