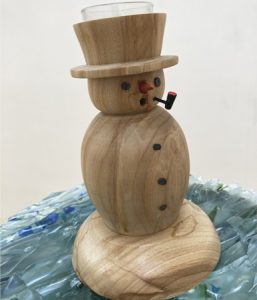 WOOD TURNED SMOKING SNOWMAN & CHRISTMAS TREE 
Fri 15 & Sat 16 Dec [2-day workshop] | 10.00am – 4.00pm | £80.00 
First mentioned in 1830, 'German Smokers' are decorative incense burners that have become a staple in German Christmas decorations. The hollowed-out belly of the turned figure holds a small cone-shaped incense which when lit allows clouds of smoke to puff out of the figurine's mouth to make the character look like he/she is smoking a pipe.
This two-day course with experienced tutor Jim Kelly is suitable for those who have attended a beginner's course or who have some experience of woodturning. During the two days, the emphasis will be on accuracy and fitting of components together. Two projects will be completed, a smoking snowman and a Christmas tree. Participants will be introduced to methods of design proportions, 'golden mean ratios' measuring, lacquering and polishing. Each participant will have the use of a lathe and safety equipment will be provided. Tools will be available, but participants are encouraged to bring their own tools. A Pro-edge sharpening system will be available throughout the two days. All materials, finishes and a bench grinder will be provided, however, participants should bring an overall/apron/ old shirt to protect their clothes.
THIS WORKSHOP CAN HOST ONE WHEELCHAIR USER OR THOSE WHO NEED TO BE SEATED. PLEASE INFORM THE BOX OFFICE AT THE TIME OF BOOKING IF YOU REQUIRE THIS FACILITY. 
Max No: 6 | Tutor: Jim Kelly [Irish Wood Turners Guild – Ulster Chapter]