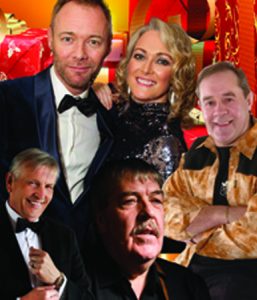 SEAN WALLACE PRESENTS 
CHRISTMAS COUNTRY SHOWTIME 
Thurs 28 Dec | 8.00pm | £20.00
Christmas Country Showtime makes a welcome return to The Market Place. This brand-new show will feature a little showband nostalgia with Ireland's favourite showband stars, Keith and Lorraine McDonald, who will treat you to some of the many big hits right through the showband era. Joining them will be another showband legend, Dave Lalor who will belt out his hits including 'Showband Nostalgia' to clearly let you see why this music was so popular with fans everywhere! Add the one and only John Glenn from the famous Mainliners to the above list and the Market Place theatre fans will go wild! 
But there's more thanks to the great country voice of Joe Moore. We also have glamour with Stacey Breen, who is taking the country scene by storm, on her way to the very top! Terry Cowan, one of Ireland's finest balladeer's who joined us last year, returns to invite you all to join him and sing those favourite ballads that have stood the test of time. Watch out for his new single 'Journey Through Ireland'. 
All the acts will be introduced on stage by show organiser and compere, Sean Wallace, who will be in the company of the popular Gerard Dornan and "Country Harmony".