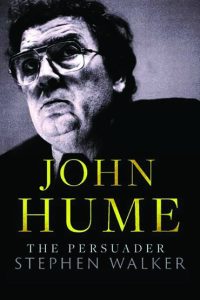 Join author Stephen Walker in conversation with journalist Sam McBride as they discuss 'The Persuader', the new book on John Hume.
Peacemaker, politician and Nobel Laureate, John Hume was a titan of Irish political history and one of the key architects of the Good Friday Agreement. But who was the real John Hume? What motivated him? How was he viewed by friends, family and political rivals?
Based on one hundred interviews, including unpublished interviews with Hume, Stephen Walker's timely and authoritative biography examines the career of a man once dubbed "Ireland's Greatest".
Stephen Walker covered the politics of Northern Ireland for 30 years. He is the author of three books and is a former BBC Northern Ireland Political Correspondent.
Sam McBride is an experienced journalist and writer. He wrote the critically acclaimed book 'Burned' published by Merrion Press which examined the RHI scandal. He is currently the Northern Ireland Editor of the Belfast Telegraph.
This event takes place in our Studio Theatre with an unreserved, tiered seating layout.