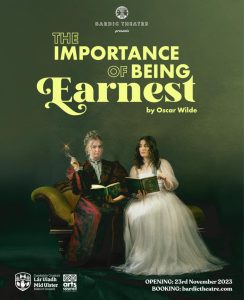 "I hope you have not been leading a double life, pretending to be wicked and being really good all the time. That would be hypocrisy."
Brought to you by Bardic Theatre and featuring a stellar cast, this wickedly funny chocolate-box of a comedy is full of thrills, frills and frivolity.
'Mean Girls' meets 'Succession' meets 'Downton Abbey' in arguably the greatest satire written for the stage. Follow the doomed doubled lives of the eternal hedonist Algernon, his neurotic pal Jack; and their absurd efforts to woo the glamorous and obsessive frenemies Gwendolen Fairfax and Cecily Cardew.
Featuring the iconic and formidable matriarch Lady Bracknell, this play is replete with instantly recognisable one-liners that could as easily apply to the social media age as they do to the fin de siècle self-indulgence of Victorian high society.
Presented by one of Northern Ireland's leading amateur theatre groups.
'The perfect play' Stephen Fry
'Sheer joy' Frank McGuinness