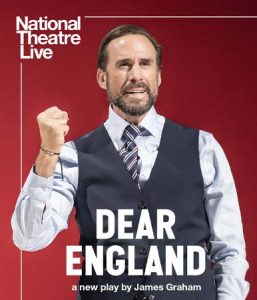 Certificate 15
With the worst track record for penalties in the world, Gareth Southgate knows he needs to open his mind and face up to the years of hurt, to take team and country back to the promised land. Joseph Fiennes [The Handmaid's Tale] plays Gareth Southgate in James Graham's [Sherwood] spectacular hit play that explores nation and game.
This event takes place in our Studio Theatre with an unreserved, tiered seating layout.
London's National Theatre makes world-class theatre that is entertaining, challenging and inspiring. And now, they make it for everyone.
National Theatre Live is National Theatre's ground-breaking project to broadcast the best of British theatre to venues in the UK and internationally, and The Market Place Theatre is delighted to be involved.
With state-of-the-art filming techniques, tailored to each play, you can now attend every performance as it happens, in all its glory.
This is theatre for everyone.