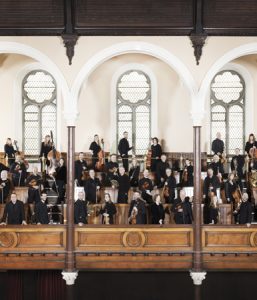 Elgar Serenade for Strings
Benjamin Romantic Fantasy for Violin, Viola and Orchestra
Schubert Symphony No. 8 [Unfinished]
SOLOISTS: Ioana Petcu-Colan | Violin and Wenhan Jiang | Viola
Join the Ulster Orchestra for a concert to warm the severest of winter chills! Elgar's Serenade for Strings is a gentle, charming work, full of lilting rhythms that suggest folk dances and with a little hint of wistfulness to temper the serenity.
Arthur Benjamin's name may not be familiar, though film buffs will recognise his work from the Hitchcock film 'The Man Who Knew Too Much'. His Romantic Fantasy for Violin, Viola and Orchestra is a dramatic, virtuosic showcase for the two solo instruments and the Orchestra is pleased to showcase the talents of its Leader, Ioana Petcu-Colan and Viola Section Leader Wenhan Jiang, in the solo roles.
The performance closes with another Ulster Orchestra favourite, Schubert's Eighth Symphony, known as 'Unfinished'. It's a masterful piece of writing, with two movements so complete it's hard to imagine how there might have been room for two more. By turns tragic and tender, it resolves in a mood of uplift and peacefulness that will send you out into the January cool with a contented smile.