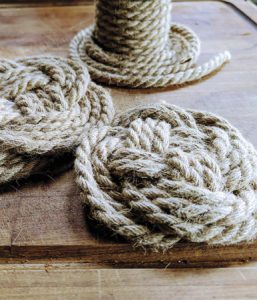 HAND WOVEN CARRICK MAT
Sat 17 Feb | 10.00am – 1.00pm | £40.00
Learn to create a Carrick mat from one piece of rope. Traditionally this type of knot is used in sailing but has been adapted to make this flat functional mat. These mats can be used as a hot pot stand for kitchen use or for decorative purposes. Smaller versions can be made up as coasters for hot drinks.
In this class, students will learn to create the foundations of the knot and how to tension it for a tight fit. They will also learn how to sew off the ends and secure the mat. No previous experience necessary.
This workshop is connected to 'Corporality', a new exhibition of 2D and 3D hand-crafted and woven art works by Enda Kenny which can be viewed in the Gallery 12 Jan–9 Mar.
Max No: 8 | Suitable for age 16+ | Tutor: Enda Kenny