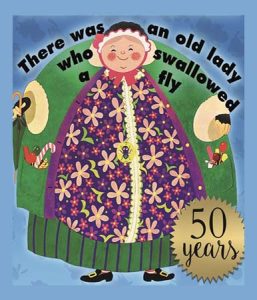 The 50th Anniversary Production! Written by Steven Lee.           
There Was an Old Lady Who Swallowed A Fly.
I don't know why she swallowed a fly…
But The People's Theatre Company do!
And now you can too as they bring the world's best loved nonsense rhyme to life just in time to celebrate the 50th anniversary of Pam Adams' best-selling book!
In this enchanting stage adaptation, aliens from a distant planet have crash-landed on earth and need our help to get home. But there's a problem. Their rocket runs on stories, not fuel, and only the greatest story in the universe will be enough to save them!
With a captivating combination of live action, animation and puppetry, this magical re-telling of There Was An Old Lady Who Swallowed A Fly is sure to surprise and delight children and nostalgic adults in equal measure.
Now you can listen to the songs from the show, including 'If You're Happy and You Know It', 'Incy Wincy Spider' and many more at www.ptc.org.uk and sing along when you visit the theatre!
A great introduction to the theatre with just the right balance of sitting listening and taking part ★★★★★ – Bristol Guide
For ages 3-103!
Image Credit: © M. Twinn 1973, Child's Play (International) Ltd