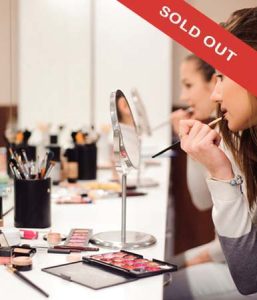 Thurs 22 Feb | 7.00pm – 9.00pm | £23.00
Are you using the same makeup products as you were in your 20s? Do you know what really works for your skin and how to choose the correct products? Should age really define your makeup choices?
If you want to have confidence in applying your makeup and investing correctly in products whilst knowing what works best for your age, then this workshop is for you! Learn how to apply your makeup in this hands-on practical masterclass under supervision and guidance by professional award-winning makeup artist Stacey Kilpatrick. This workshop will cover elements such as flawless skin, face and eye shapes, how to choose the correct foundation, product placement and will focus on an achievable step-by-step guide to applying a natural day look. Please bring your own make up and a small free-standing mirror to the workshop.
Max No: 12 | Suitable for age 40+ | Tutor: Stacey Kilpatrick (S.A.K. Make-up)