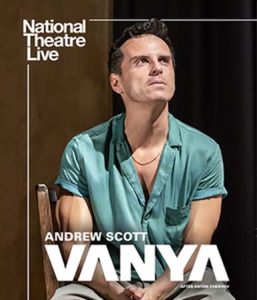 Certificate 15
Andrew Scott [Fleabag] brings multiple characters to life in Simon Stephens' [The Curious Incident of the Dog in the Night-time] radical new one-man version of Chekhov's Uncle Vanya.
London's National Theatre makes world-class theatre that is entertaining, challenging and inspiring. And now, they make it for everyone.
National Theatre Live is National Theatre's ground-breaking project to broadcast the best of British theatre to venues in the UK and internationally, and The Market Place Theatre is delighted to be involved.
With state-of-the-art filming techniques, tailored to each play, you can now attend every performance as it happens, in all its glory.
This is theatre for everyone.