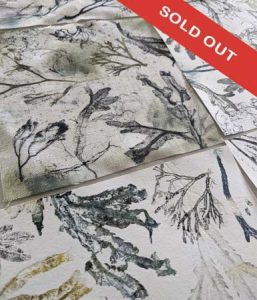 SEA AND SHORE: NATURE PRINTING ON TEXTILE
Sat 2 March | 10.00am – 1.30pm | £27.00
This workshop draws upon the historical process of printing using natural plant material known as 'Nature Printing' to create unique artworks.
In this workshop participants will work with a range of seaweeds, shells and plants gathered from local shorelines to create a selection of Nature Prints. Participants will work on both paper and fabric and use hand printing techniques and a printing press to create a series of unique works.
Frames will be provided so that participants can select a piece to mount and frame as an artwork that is ready to hang at home.
Max No: 8 | Suitable for 16+ | Tutor: Ruth Osborne [Ruth Osborne Art]