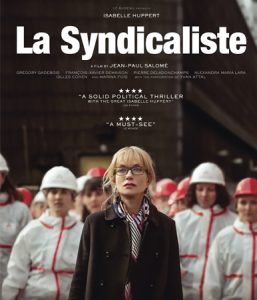 Film Screening
La Syndicaliste
Fri 8 Mar | 7.45pm | £5.00
Dir: Jean-Paul Salomé | 2022 | 121 Mins | Certificate 15
'La Syndicaliste' is the true story of the Irish national Maureen Kearney [Isabelle Huppert] – head trade union representative-turned-whistleblower of a French multinational nuclear powerhouse. After denouncing top-secret deals that shook the sector, Kearney's life is suddenly turned upside-down when she is violently assaulted in her own house. The investigation is carried out under pressure, but new elements create doubt in the minds of the investigators. At first a victim, Maureen becomes a suspect. From acclaimed Writer | Director Jean-Paul Salomé and based on the book by Caroline Michel-Aguirre.
In French with english subtitles
This event takes place in our Studio Theatre with an unreserved, tiered seating layout.
'A must-see' Le Monde
'A bravura performance from Isabelle Huppert' Eye for Film