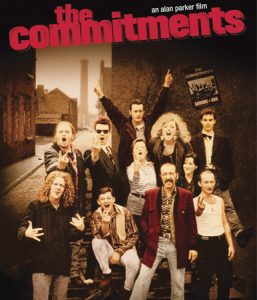 Film Screening
The Commitments
Thurs 14 Mar | 7.30pm | £7.00
Dir: Alan Parker | 1991 | 113 Mins | Certificate 15
Jimmy Rabbitte [Robert Arkins] knows he's the world's greatest band manager… now he just needs a band. Auditioning everyone he can find, Jimmy gathers ten of the most talented, least experienced musicians from the rough streets of working-class Dublin with a plan to launch the greatest Irish Soul band in the world.
It's a joyful mixture of great characters, super dialogue and wonderful music [The Sun]; foul-mouthed, fast-talking and very funny [Time Out]; with a soundtrack from soul paradise [Daily Telegraph]. One of the greatest films in the last 50 years [BBC Movie Connections], Ladies and Gentlemen, please put your working class hands together for the saviours of soul… The Commitments.
Contains strong language and adult material. This event takes place in our Studio Theatre with an unreserved, cabaret style seating layout.