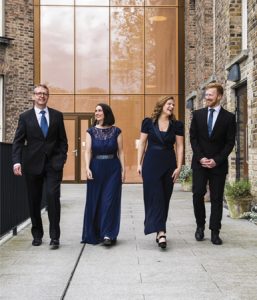 Moving On Music Presents
Chamber Choir Ireland Quartet
Sat 6 Apr | 2.30pm | £13.00 | £11.00 [conc]
Chamber Choir Ireland presents a small, yet perfectly formed, quartet of part-songs and miniatures, spanning the centuries. Paring back the full choral sound to its most basic form, an intimate experience of hearing four exquisite voices perform everything from Palestrina to Gershwin including new works by Rhona Clarke, Stephen McNeff and Eoghan Desmond.
Garnering a strong reputation for its unique approach to creative commissioning, recording and programming, Chamber Choir Ireland is the country's flagship choral ensemble and national chamber choir under the Artistic Direction of the multi-award-winning conductor, Paul Hillier. The Choir's programmes span from early renaissance to the present day, incorporating established choral classics with cutting edge commissions, and a style of performance that incorporates versatility, dynamism and often vocal pyrotechnics.
PLEASE NOTE: This event will take place at the Primate's Chapel, Palace Demesne, Armagh.
'A sheerly beautiful immersion in choral sonority' Irish Times