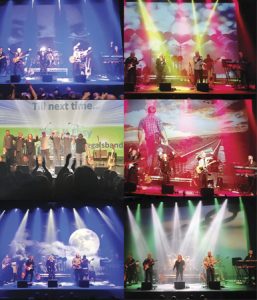 OLDSHORE PRODUCTIONS PRESENTS
THE ILLEGALS
Sat 27 Apr | 8.00pm | £20.00
Ireland's only double tribute to the music of Eagles and Fleetwood Mac, The Illegals return with their ever-popular, classic-rock revue.
Fifty years ago, the Eagles released their third album, 'On The Border'. Half a century later, tunes from the album remain fan favourites; 'Best of My Love', 'Already Gone', 'Ol' 55'. They will all feature in the Illegals set to celebrate this landmark in rock history.
Led by the brilliant Niamh Kavanagh, The Illegals will take you on a journey through soulful harmonies, exciting riffs, blistering guitars and unforgettable songs.
Audiences really love an Illegals show – an entertaining night of vocal harmony, superb musicianship and great fun – served up by a band at the top of its game.
The best of two legendary bands in one night? It's almost too good to be true.
'Niamh is outstanding – The Rolls-Royce of Irish Rock' RTE