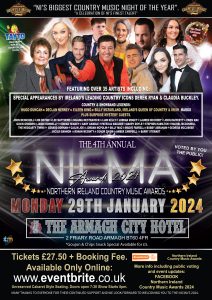 The Northern Ireland Country Music Awards (NICMA'S) Voted by the Public returns Monday 29th January 2024. The Armagh City Hotel has been chosen as the 2024 venue for the prestigious event and it promises to be the best yet.
The NICMA'S now in it's 4th year is seen as the biggest night in the country music calendar in Northern Ireland. It brings together music fans from all parts of Ireland and the UK, to celebrate, meet and pay tribute to our finest musicians from across the province.
It's also the only annual event that sees more than 35 performer's on the same show, meeting fans and catching up with fellow musicians.
With an eclectic mix of artists from every corner of Northern Ireland, consisting of our current leading stars, legends and some of our young and upcoming artists.
Every year the NICMA'S also invite some very special guests from the South of Ireland and 2024 is certainly no exception.
We are delighted to be welcoming and honouring the newest recipient of the RTE Hall of Fame award Declan Nerney. Alongside previous winner, Queen of Country and Irish Margo O'Donnell, who celebrates 6 decades in the industry.
Ireland's leading lady and daughter of the legendary Jimmy Buckley will also be a making a special appearance. The glamorous
Claudia Buckley who has just launched her own band will certainly add some sparkle to the event.
Carlow native, Country Superstar Derek Ryan whose made Co. Fermanagh his home for the last number of years has been a firm supporter of the publicly voted awards. He's been undoubtedly the most popular artist to appear at the NICMA's, as voting results show
Derek's also the only triple winner for the past 2 years at the NICMA's Voted by Public.
All performers are backed by 6 of the most talented and experienced musicians and backing vocalists in the industry, all lead by Musical Director Mark Vaughan.
Hosts Malcolm McDowell and Celebrity Co Hosts including Big T (Downtown Radio) & Hugo Duncan (BBC Radio Ulster).
VOTING
Voting opens Friday 15th December 2023 & Closes Friday 12th January 2024.
Voting form only lists categories, with a blank space for your nominees.
Rules:
All nominee's must reside in Northern Ireland.
All categories are decided solely by the public and not announced until on stage.
Organisers decision is final. For further details on how to vote, list of performers, tickets and updates:
Facebook Northern Ireland Country Music Awards 2024.
TICKETS
Tickets are only available online and are emailed directly to you after purchase.
Spacious Unreserved Cabaret Style Round Tables & Seating.
Doors open 7:00pm Show Starts 8pm and ends at midnight.
Tickets £27.50 + Booking Fee Eventbrite/Northern Ireland Country Music Awards 2024
FREE CRISPS FOR EVERYONE courtesy of Tayto.
NICMA'S Special Goujon and Fries Snack Available for only £5.