UPCOMING EVENTS - EDITORS' PICKS
HALLOWEEN IN ARMAGH
028 3752 1800
26/10/2017
01/11/2017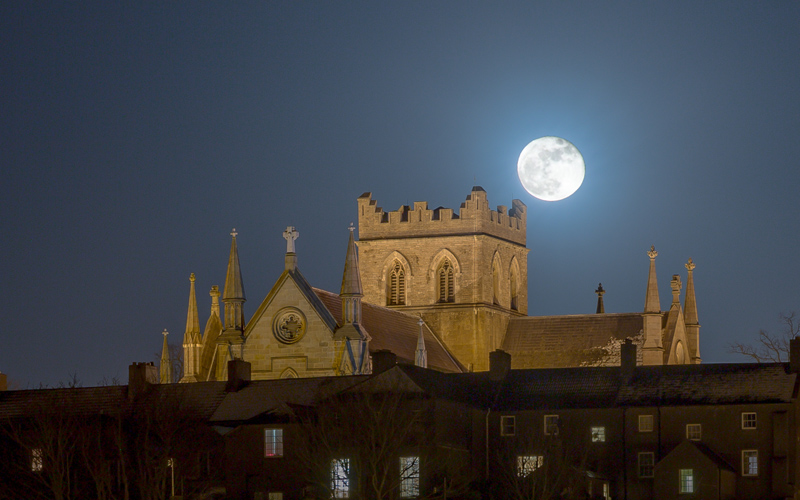 Migrating silver eels in Lough Neagh, conker fights on The Mall, pumpkin lattes and early evening sunsets, illuminating the city's iconic skyline with bursts of turquoise and pink. Halloween is an exciting time to experience Armagh and here are eleven ways to make your visit even more memorable:
1.    Enjoy crisp afternoon walks in the leafy parklands of Brownlow House, The Argory, Ardress House and Demesne Palace and feel the crunch of the auburn, red and gold leaves beneath your feet. At The Argory, carve out a pumpkin, explore the Halloween trail and try some ghoulish treats in the café on 26 Oct between 12 – 4 pm
2.    Star gaze under autumn skies at Armagh Observatory or explore Minecraft and complete spooky space themed tasks at Armagh Planetarium 28 – 30 Oct.
3.    Dine in one of our award-winning restaurants and discover how the Food Heartland Chefs creatively use the fabulous autumnal produce on their doorstep.
4.    Join our Halloween lantern parade on 26 Oct as it winds down to Craigavon Lakes and watch the night sky come alive with a spectacular firework display between 5 – 9pm.
5.    Visit Armagh County Museum on 28 Oct and celebrate Armagh's famous apple harvest and, through crafts and trails, discover the local myths and legends surrounding Halloween
6.    Keep the little ones happy with spook-tastic Halloween fun from 28 – 30 Oct at Navan Fort. Meet Vera Courage, world famous Vampire hunter, on her quest to find Dracula in a Halloween show. Dander on the dangerous side to the Potion Pad where witches are creating evil potions and brews in their cauldrons. Scare yourself silly with a ghostly walk to an old derelict wood house, hidden on the grounds of Navan. The occupier of this shack is an old storyteller who is prepared to put Halloween shivers up your spine with spooky Halloween tales!
7.    Discover creepy characters and prepare for monster Halloween fun at Portadown People's Park on 30 Oct between 5.30 – 9.30pm 
8.    Brighten the dark Halloween nights in Armagh with spellbinding and spooky dramas, side-splitting comedy with David Doherty or musical extravaganzas as RJ Rocks, Eamon Mc Crystal and The Roy Orbison Story take to the stage at The Market Place Theatre and Arts Centre. 
9.    No tricks just Halloween treats for country music fans as Phil Mack & Keep It Country TV, along with a host of Country Music Stars, entertain at Armagh City Hotel from 1 – 3 Nov.
10.  Celebrate Halloween with The Celts at one of Ireland's most important archaeological sites, Emain Macha on Wed 1 & Thurs 2 Nov. Enjoy a visit to the Iron Age Dwelling where the Celts will introduce you to some of the traditions of Samhain such as offering gifts for the dead, preparing food, dressing up with masks to confuse the spirits, and the telling of Samhain stories. 
11. Cosy up at a crackling fire in one of our many traditional pubs and sample local hot mulled artisan cider whilst enjoying the foot-tapping brilliance of a live music session.
Our accommodation providers are offering great autumn deals so, book a room, book an event. We've got Halloween covered!