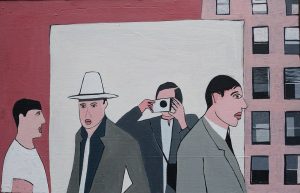 8th July – 30th September 2023
Admission Free
Opening Hours – Mon – Sat 10 am -4pm
Armagh County Museum
Location Unknown is a body of work constructed over the past 4 years using mixed media.
An assemblage of mixed materials that have been weeded from local dumps or scraped from walls. Ripped and torn mementos, depicting crumpled images of objects, interiors, and portraiture. Tales of our own sometimes political, hidden or forgotten histories that come together within these paper constructions.
Eddie Rafferty was born in Banbridge Co Down in 1966.  He studied fine art at the Belfast school of art 1988-1992. As his primary matter he draws inspiration from stories and pictorial narratives. Eddie's work has been widely exhibited both locally and internationally. His work is in private and public collections in Ireland, Europe Africa and America.