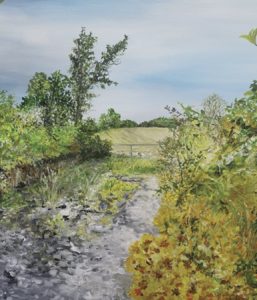 Co Armagh Artist, Mairead Duffy, exhibits Memory Lane, a series of mixed media landscapes.
"Memory Lane pays homage to my childhood walks with my Granny. Like many people, growing up in rural Armagh the outdoors was our playground. Granny knew the importance of a good walk before it became fashionable. My siblings and I would walk after her knowing we would hear a few yarns along the way with a few sweets in her apron pocket. We foraged the hedgerows for blackberries and gooseberries. Even though I have travelled widely, those memories have stayed with me"
Take time to stop, reflect and appreciate life in all its beauty.