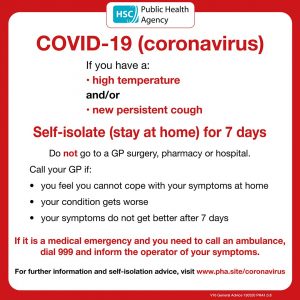 Update on access to Council facilities, offices & venues

In accordance with advice issued by the Public Health Agency (PHA), we would like to advise that all Council facilities & venues, including leisure centres, theatres and arts venues, visitor attractions, community centres, recycling centres and administrative offices, remain open as normal.
The Council will continue to monitor and review the situation with regard to COVID-19 and its potential impacts, and will continue to act in accordance with any advice provided by the Public Health Agency (PHA).
Up-to-date information and advice on COVID-19 (Coronavirus) is available on the Public Health Agency's website.
Please watch this useful PHA video for general advice:https://vimeo.com/396668629