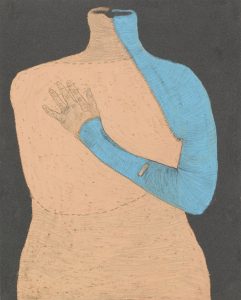 F.E. McWilliam Gallery
Sharon Kelly: Resting Pressure
5 March – 28 May 2022
The F.E. McWilliam Gallery is delighted to present Resting Pressure, a survey exhibition by Belfast based artist Sharon Kelly. Including work from the late 1980s to the present, Resting Pressure provides an unprecedented opportunity to explore the development of Kelly's practice over more than three decades.
Through processes that include drawing, watercolour, printmaking, sculpture and video, Kelly sensitively explores ideas around resilience, physical endurance, fragility, illness, motherhood and grief and poses what Kate Antosik-Parsons has identified as the 'fundamental questions about the experiences of the body in relation to the larger meanings of life'.
Featuring work from private and public collections including the Arts Council of Northern Ireland, the Royal Ulster Academy The Balliglen Museum of Art, County Mayo and the Boyle Civic Art Collection, this is the largest exhibition of Kelly's art held to date.
Gallery Curator Dr Riann Coulter said:
'Sharon Kelly's connection with the F.E. McWilliam Gallery dates back to 2015, when work she produced in collaboration with primary school children from Crossmaglen was included in the exhibition Virtually There. Seven years later, it is a great pleasure to be able to present a solo exhibition that explores the breadth and depth of Kelly's practice and introduces the wider public to her compelling work.'
Based at QQS Artist Studios in Belfast, Kelly is currently working with female boxers from Corinthians Boxing Club, as part of Dublin City Council Culture Company Sport & Arts Residency. In 2020 she was the recipient of the Arts Council of Northern Ireland Fellowship at the British School at Rome and she has also recently been awarded The Pollock-Krasner Foundation Grant which will support the creation of new work.
Resting Pressure is accompanied by an illustrated catalogue with texts by artist Paul Becker and art historian Dr Kate Antosik-Parsons. The F.E. McWilliam Gallery has also commissioned film-maker Éanna Mac Cana, Sharon's son, to make a short film about the artist and her art.
The exhibition continues until the 28th May 2022. Free Admission.