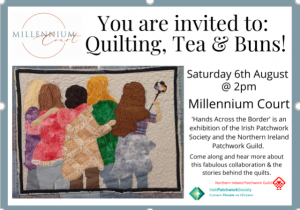 'Hands Across the Border' Exhibition  
Along with Northern Ireland Patchwork Guild & the Irish Patchwork Society, Millennium Court has the pleasure of inviting you to view this exhibition! This is a collaborative exhibition of handmade textile pieces representing the theme "Hanging Together Again" 
Light refreshments will be served during the opening event of the exhibition on Saturday 6th August. You will have the opportunity to hear from the quilters about how they made their pieces and the meaning behind them.  
Attendees of this exhibition will have the opportunity to acquire a voucher of 25% off when ordering tea or coffee at Zio Portadown! 
This voucher can be collected from the Millennium Court and can be redeemed in the restaurant during the date of visit! 
Millennium Court Arts Centre is located at 2 William Street, Portadown, BT62 3NX.