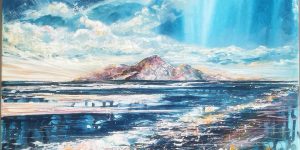 Tutor: Ann Feely
Impressionist style with a twist using acrylics. Be inspired and learn from a professional artist as Ann will guide you.
In these six sessions, you will be guided through the different processes involved in landscape painting. In week one, we will be carrying out observational skills and line sketching to create your own colourful and textured painting.
In week two, we will focus on depth, tone and colour.
In week three, we will be experimenting with different artists techniques.
In week 4, we will experiment with textures.
In week 5, you will begin your final painting onto a canvas.
In week 6, you will finish your painting and varnish it.