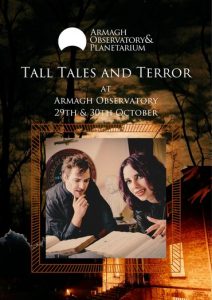 Join us for a very special tour of our Observatory this Halloween. Meet your terrifying tour guide and listen to stories that will chill you to the bone! The Armagh Observatory was founded in 1790, and so there are plenty of stories to tell.
Please be aware that there will be stories which will include adult themes not suitable for young children.
We make every effort to accommodate wheelchair users and others with mobility issues. If you would like to ask further questions about the tour in regards to access, please contact: reception@armagh.ac.uk
Please note: for special events our discounts (e.g. membership plus etc) will not apply, however you can use AOP vouchers on checkout. If you need help processing AOP vouchers please call our Box Office on 028 37523689 during opening hours
This tour included general admission to the Planetarium
Please meet at the Planetarium reception for the start of the tour.
Please book your ticket using this link https://armaghobservatoryplanetarium.ticketsolve.com/ticketbooth/shows/1173616027