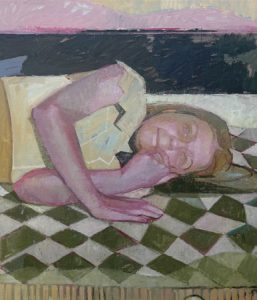 25 July – 3 Sept 2022 | Gallery
This collection of recent paintings marks Gareth's first solo show in Northern Ireland for 10 years. Gareth's new work sees him step away from his well know portraiture work to explore new subjects and styles of painting.
Gareth Reid was born in Belfast and currently lives and works in Glasgow. He is a graduate of the University of Ulster, Glasgow School of Art and the Florence Academy of Art. He is a life drawing and portraiture tutor | visiting lecturer. He gives talks about his works at the National Gallery of Scotland, Edinburgh and the National Portrait Gallery, London. His work has been published by the NPG.
He has shown on five occasions at the BP Portrait Award in the National Portrait Gallery in London, and in 2007 won the BP Travel Award.  In 2017, he won Sky Arts Portrait Artist of the Year, painting Graham Norton for the National Gallery of Ireland. In 2019, Historic Royal Palaces commissioned a portrait of HRH Prince of Wales for Hillsborough Castle.
His work is held in the collections of RBS, Ralph Lauren, The Old Bailey, Rotunda Hospital, The College of Anaesthesiologists of Ireland, The Arts Council of Northern Ireland, Historic Royal Palaces, The Royal Collection and the National Gallery of Ireland.
As part of the John Hewitt International Summer School 2022, Gareth Reid has been invited to give a talk about his portraiture work. This will take place on Tuesday 26 July at 5pm. Booking essential.