What's On
The Life Of Objects: Lucy Turner
The Market Place Theatre & Arts Centre
028 3752 1821
06/03/2020
18/04/2020
Admission Free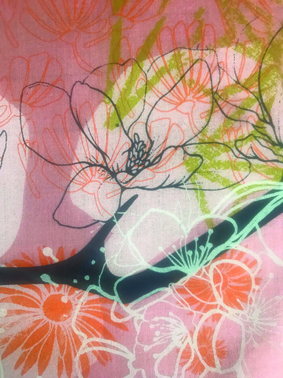 Friday 6th March – Saturday 18th April 2020 | Print | Foyer Walls | FREE Event
The Life of Objects explores the processes of print on abandoned and forgotten materials, giving them new life. Handkerchiefs may have lost their currency as an essential everyday object; but with today's trend of repair and re-use, a bag full of hankies, little hemmed squares dyed with hue from yesteryear, did not pass me by. I have dozens and dozens of them and they are not precious to me, they have become the anchors for doodles and playful design. The screen ink I use sinks deep into their fibres and the residual marks on their reverse is intriguing, the image is disrupted and a feather-like trace emerges. This contemplative mark making process leads to different outcomes both as framed and sculptural works.
The common connection for this collection is memory, materialism history and the onetime consuming labour of craft – not least the folding of hankies, the once norm for every day.
Maybe the life of objects is not about recycling; it's more about re-loving.
www.visitarmagh.com/marketplacetheatre