The Market Place Theatre & Arts Centre
028 3752 1821
18/09/2020
07/11/2020
Admission Free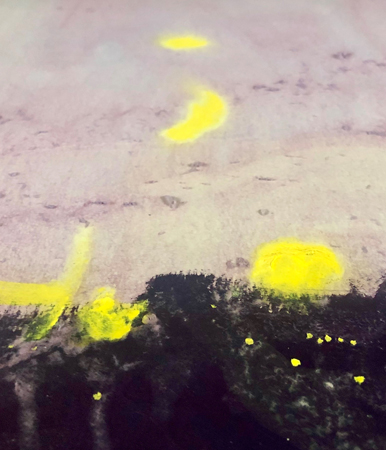 threshold
/ˈθrɛʃəʊld,ˈθrɛʃˌhəʊld/
the starting point of an experience or venture
Exhibiting Artists: Philippa Bennett | Maeve Cassidy | Laura Clark | Sarah Edge | Lisa Kelly | Sheila Lavery | Mary Mawhinney | Sollie McDaniel | Finola McGreevy | Méabh Meir | Bridget Nugent | Fionnuala O'Neill | Andrea Plunkett | Rose Quinn | Claire Thompson | Harriet Underwood
Threshold is an exhibition about art in the service of reflection. It is a seminal exhibition by the first graduates of the MSc Art Psychotherapy course at Ulster University's Belfast School of Art.
The British Association of Art Therapy defines the art therapy profession as:
"a form of psychotherapy that uses visual art media as it's primary mode of communication and… as a means of self expression" (2020).
Clients who come to art therapy need no artistic skill and yet art therapists have a solid identity in art making. These artists communicate through fine art practices as diverse as printmaking, jewellery, painting, drawing, sculpture, ceramics, textiles, weaving, photography, journalling, and eco-art.
The works in Threshold are the visual and tactile expressions of art psychotherapy trainees and their journeys of identity. The exhibition represents collaboration and a venturing forth into professional practice.
Current Gallery Opening Hours: 10am-4pm Wed-Sat
Click here to view Threshold Exhibition Catalogue: 'threshold' Exhibition Catalogue QR