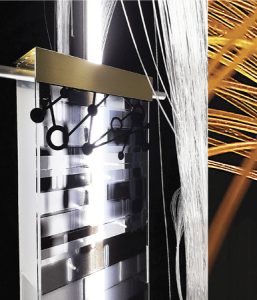 Fri 6 May – Sat 2 July | Gallery
Through her work, Elin Johnston investigates aspects of collective and individual corporeal presence, conditions of self and impact upon place, and makes visible resonances of embedded cultural, social, and industrial memory.
In these inter-related series, she employs Video and Experimental Moving Image, 2D Digital Imaging, and 3D Sculptural Assemblage to interpret and signify thematic perceptions, emotions, and concerns which, whether revealed or withheld, serve to shape and define individual or shared values and responses.
ELIN JOHNSTON MA
Elin is an award-winning Visual Artist in practice since 2010. Her practice is inter-disciplinary in basis with digital process at it's core, and has been exhibited and screened nationally and internationally, including digital arts and film festivals in Berlin, Copenhagen, Athens, Porto, and USA.
Recent recognition includes "Best International Director" 2022 Oregon Documentary Film Festival USA; "Best Micro Short Documentary" 2021 White Deer International Film Festival UK; and "Best Experimental Film" 2021 FICIMAD Madrid.
Her work is held in a number of public collections including that of the Arts Council of Northern Ireland, The Poetic Phonotheque, Copenhagen, and Lisburn & Castlereagh City Council.
Recent video & moving image recognition includes:
Best International Director Award + Finalist, Best Experimental Micro Film – 2022 Oregon Documentary Film Festival,  Portland, USA.
Best Experimental Film Award, Micro Movies – 2021 FICIMAD, Madrid.
Best Micro Short Documentary + Best Soundtrack – 2021 White Deer International Film Festival, Nottingham, UK.
Honourable Mention – 2021 Berlin Flash Film Festival, Berlin.
"MEET THE ARTIST – Saturday 28th May 2-3pm, Gallery – An informal opportunity to meet Elin and view her new work"
"The Semiotics of Adornment"- Sculptural Assemblages & HD Video – Image: Elin Johnston.
www.elinjohnston.com | vimeo.com/elinjohnston