What's On
The Gathering: Stories through Fire
Navan Centre & Fort
028 3752 9644
03/08/2019
03/08/2019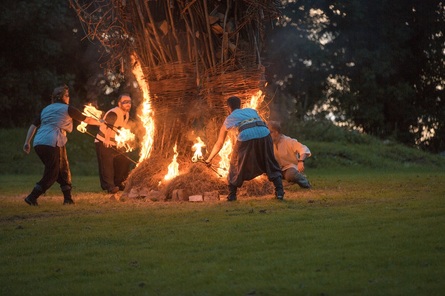 Our annual celebration of the Celtic festival of Lughnasa returns, marking the beginning of the harvest season. We welcome you to join the clan as they prepare to honour the Celtic Sun God, Lugh, culminating with the fire ceremony finale which, this year, involves a series of burning structures telling stories through fire!
This is an evening with something for all tastes and ages. Musical entertainment will be provided by local bands, witness the spectacular fire performances by FirePoise, observe the awe-inspiring World of Owls and get into step with dancing. A dedicated children's area ensures everyone gets involved!
Why not fully embrace the spirit of the evening and dress as a traditional Celt? Summer Celtic Headdress and face painting will make you feel even more like a clan member!
Tickets are limited, with none sold at the gate so book early to ensure you don't miss out!
Please note the car park will be closed from 2:00pm & will re-open at 6:00pm.
Book Now