What's On
Genealogy Conference 2020
Navan Centre & Fort
028 3752 9644
08/05/2020
08/05/2020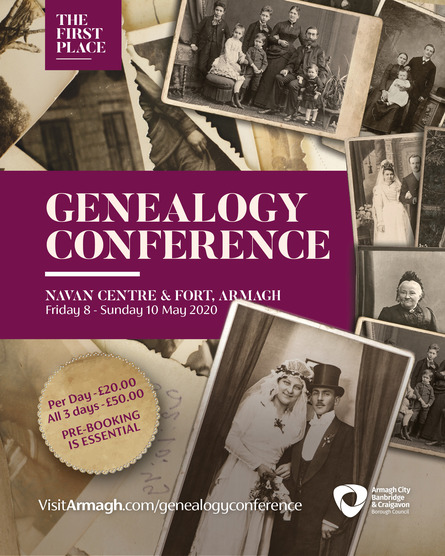 Explore your past at our Genealogy Conference at the Navan Centre from 8th-10th May, 2020. With speakers from across the Borough and beyond, you are sure to learn something new to help your family history research.
FRIDAY 8th May 2020
SPEAKER
1.00pm-2.00pm
Early Registration
2pm-3.15pm
Tracing your Irish Ancestors – Church, Civil &   Census records
Feargal O'Donnell
3.25pm-4.25pm
Family,   Community and Migration History
Paddy Fitzgerald
4.30pm-4.50pm
Sources in the Irish Studies Library, Armagh
Catherine Gartland
4.55pm-5.45pm
Using IFHF Centres – the benefits.
Feargal O'Donnell
5.45pm-6.15pm
 Tea/coffee &   sandwich @ £3.00 (pre-booked only)
6.15pm-7.00pm
Unique records held by the North of Ireland Family History   Society
NIFHS
7.00pm-8pm
PRONI Records and Ulster Genealogy
Desmond McCabe
8pm-9pm
Formal Launch (Cheese & cold meats) and Q&A
SATURDAY 9th May 2020
9.00am-9.20am
Registration
9.30am-10.15am
Irish surnames and their problems
Feargal O'Donnell
10.15am-11.15am
Irish   Placenames and their importance in tracing family history
Brian Mitchell
11.15am-11.45am
Tea/coffee
11.45am-12.45pm
Researching your ancestors in the 1600s
Dr William Roulston
12.45pm-2.15pm
Lunch @ £6.00 (pre-booked only)
2.15pm-3.15pm
National Archives Talk
Tom Quinlan
3.30pm-4.30pm
Q&A Session with Panel
5.00pm-6.00pm
Open mic session for attendees to share experiences and   knowledge.
SUNDAY 10th May 2020
9.30am-10.15am
1922 Fire – was everything destroyed?
Feargal O'Donnell
10.15am-11.00am
Using the 'Rootsireland.ie' database – a unique   National asset.
Dr Brendan Scott
11.00am-11.30pm
Tea/coffee
11.30am-12.30pm
A Beginner's Guide to DNA
Martin McDowell
12.30pm-1.15pm
What did it mean to a be a Gael in Ulster in the 1500s?
Martin Mellon, Cineal Eoghain
1.15pm-2.30pm
Lunch @ £6.00 (pre-booked only)

2.30pm-3.15pm

3.30-5.00pm

History from Headstones

Walking Tour of Local Graveyard

Feargal O'Donnell
*Timetable, schedule and talks subject to change.
Friday Genealogy Conference
Book Now