What's On
Navan Centre 2021 Tour
Navan Centre & Fort
028 3752 9644
01/08/2021
01/08/2021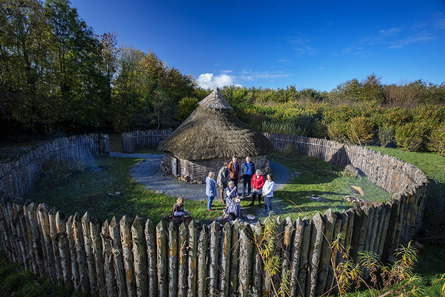 Experience life over 2000 years ago with a visit to the
Navan Centre & Fort. As the ancient seat of Kings and home of the Red
Branch Knights, the legendary Emain Macha (Navan Fort) is one of Ireland's most
famous and important archaeological sites. Walk in the footsteps of warriors as
your guide explains the significance of the great temple of 95BC, as well as
the surrounding sites of the Navan complex.
Immerse yourself in Iron Age life, as you meet the resident
Celtic clan & view their period dwelling! During your visit you may find
the Celts regaling you with stories of their past triumphs, cooking, weaving or
even preparing their weaponry for battle. Although our warriors may look
fierce, you are assured of a warm welcome – as long as you stay a spear's
length away!
All tours will take place in line with current COVID-19
guidelines on social distancing and limited numbers. Hand sanitising stations
are located throughout the venue and masks are mandatory when inside the Navan
Centre. Tours must be pre-booked in advance.
Navan Centre General Information and Cancellation
Policy
Your safety is our number one priority. During these
unprecedented times, we understand that there may be exceptional circumstances
(e.g. being required to self-isolate or quarantine in accordance with Test,
Track & Trace) which may lead to you being unable to attend. For this
reason we have formulated a cancellation policy designed to be fair both to the
customer and the event organisers.
Any events cancelled by the organiser, whatever the circumstances, will be
fully refundable. We will contact you as soon as we know an event has
been cancelled and will refund your full ticket price plus any booking fees, no
quibbles. From the moment we confirm any event we already have incurred an
expense and the closer to the date of the event the more expenses rise.
Policy
First of all, if you cannot attend then please do remember that you have the
option of passing on / selling your tickets to friends or family. If you do
need to cancel, please email us at navan@armaghbanbridgecraigavon.gov.uk
as soon as possible to let us know. Cancellations can only be accepted through
this email address. From the time of booking up until a week before the event, if
you have to cancel, we will refund you 75% of your ticket value. From 6 days
until 24 hours before the event we will refund you 25% of your ticket value. We
will also try to resell your ticket if we can and, if this is possible, then
you will be refunded the full ticket price of any resold tickets.
If your cancellation is less than 24 hours before the event, or on or after the
event, we will not be able to offer you a refund. Please email
navan@armaghbanbridgecraigavon.gov.uk if you have any event related enquiries.
Pre-booking is essential. Limited tour numbers to enable social distancing.
Book Now