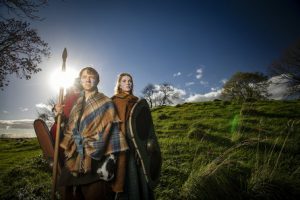 The legendary Navan Fort (Emain Macha) is the earliest capital of Ulster and ancient seat of kings.
·         Explore the archaeology and history associated with the great temple of 95BC, as well as learning of some of the significant discoveries at the nearby sites of Loughnashade and the King's Stables. Our experienced tour guides will explain how and why it is believed the impressive ritual temple at Emain Macha was built, as well as how this site may have been what attracted Saint Patrick to the area.
·         Join our living history characters, as you are welcomed into the Celtic clan & hear stories of great kings, queens and warriors from 2000 years ago.
·         Visit the Iron Age dwelling area, where you will meet members of an ancient clan going about their daily lives. During your visit, you may find our Celts celebrating past battles, cooking, weaving or even preparing their weaponry! (Please note: From 1st October your tour of the dwelling will be with one of our tour guides, rather than our living history team).
·         Learn of the skills required to become a member of the Red Branch Warriors and see if you could successfully complete Warrior School!
This tour lasts approximately 1 hour 45 minutes, including a guided tour to Navan Fort (weather permitting) and a visit to the Iron Age dwelling area.