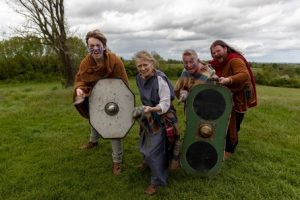 Inspired by the ancient Tailteann Games, enjoy a packed afternoon of family fun at Navan Centre & Fort, Armagh.
It is believed the Celts would have trained young warriors in the use of the hurl before they moved on to wielding a sword. Hone your own warrior skills in our Poc Fada assault course, crawling under hessian sheets, dribbling a ball around a series of posts, balancing the ball and striking at a target.
Learn how to use a spear & throw a javelin and hunt for your own food! Discover the different animals that the Red Branch Knights would have hunted, before taking part in your own self-led food hunt in the woods.
Meet Laeg, Cu Chulainn's famous charioteer as we celebrate the horse as a royal animal, used in warfare alongside the chariot! Our special hobby horses can lead you to victory in the Tailteann Derby!
No Tailteann Games would be complete without a special hand-fasting ceremony. Gather around the Sacred Stone and witness our special trial marriages!
Day ticket covers whole event from 12:00pm-5:00pm or drop in at your leisure throughout the afternoon.